Replacement and Repair Insurance
Security and protection from unexpected loss or repair of your vehicle
Companion Replacement Insurance
The choice for comprehensive coverage
Comprehensive coverage with no annual renewals, no annual increases and no chance of cancellation due to driving experience or losses.
Your new vehicle is replace with a current model in the event of total loss due to theft, fire or accidental damage. For pre-owned vehicles you get the advantage of a replacement credit that is adjusted annually for inflation. Plus, rental vehicle coverage where your primary insurer leaves off.
Us vs Other Programs
Companion Replacement Insurance
Replacement vehicle is a current model
Fixed Premium
Fixed Term
Interest Rate Protection
New and Pre-owned
Other Programs
Insurer chooses the model year
Premium may increase on an annual basis
Annual renewal contingent on driving experience and losses
No Interest rate protection
No available on pre-owned vehicles
Companion Gap Plus
Protection against the unexpected
In today's fast-paced world, your vehicle's real value will decline faster than the balance you own on your vehicle loan. This could leave you liable for thousands of dollars of financial liability or negative equity in the event that your vehicle is written off. That is over and above what your insurance policy will pay out.
This "gap" can be covered by Companion GAP Plus insurance - which provides the top-up coverage to your insurer's total loss payout and provides affordable peace of mind.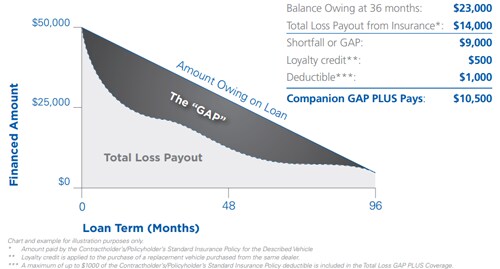 Silent Sentinal
The ultimate anti-theft protection
Vehicle theft is a large problem in Canada with about 300 cars stolen every day. New vehicles, SUVs, trucks and those in metropolitan areas are high theft risks
Let Silent Sentinel protect your vehicle. with your VIN number etched on to major parts of your vehicle, and provide coverage in the even your vehicle is a total loss due to theft
Simply Efficient
Silent Sentinel deters vehicle thieves before they enter your vehicle
Drive and passenger-side window decals notify potential thieves that your vehicle is protected
Silent Sentinel can't be altered or bypassed without replacing major parts of your vehicle, which is too costly and risky for thieves or "chop shops"
Silent Sentinel works 24 hours a day, 35 days a year, even with valet parking
Silent Sentinel is passive. There is nothing to turn on or off
Auto Mechanical Assistance
Protection when your manufacturer's warranty expires
The frequency of repairs increases with kilometres and time. The SAL Protection Plan for your vehicle's components takes over when you manufacturer's warranty expires.
Auto Mechanical Assistance helps cover Engine, Turbocharger/Supercharger, Transmission, Transfer Case, Drive Axle, Steering, Brakes, Electrical, Air Conditioner, Fuel System, Front and Rear Suspension, Cooling System, Enhanced Electrical.
Option 1: 24/7 Roadside Assistance & Rental Towing up to 50km to a destination of your choice. Other coverage: tire, battery, locksmith, fluid delivery and mechanical first aid. $50/day (up to $250) of rental vehicle coverage in the event of an eligible mechanical breakdown
Option 2: Seals & Gaskets All seals and gaskets are covered except those components listed in the exclusions section of your policy.
Tire and Rim Protection
Protect yourself from the costs of unexpected tire and rim repairs
Coverage
Coverage is available on new pre-owned and leased vehicles. Multiple terms are available to match your budget and lifestyle.
Peace of Mind
We will repair or replace any flat tire and or damaged rim due to road hazards such as potholes, cracks, nails and glass*
Food & Lodging
Coverage for up to $50/day (3-day maximum) should you get stranded more than 400km from home.
Road Service
Protection includes road service with a benefit of up to $100/claim.
*Please refer to the Diamond Kote® Warranty for a detailed explanation of exclusions, limitations and coverage.
Protection includes:
Tire repair or replacement
Rim repair or replacement
Mounting and balancing
Valve stems
Taxes
Towing
Road service
Coverage extended to seasonal tires
Zero deductible
Coverage for new, pre-owned and lease vehicles.